1:43 BLUESMOBILE AT SELECT HOUSE OF BLUES!
Indianapolis, IN (July 28, 2015) - GreenLight is excited to announce that the 1974 Dodge Monaco "Bluesmobile" from the hit movie, The Blues Brothers (1980), will now be sold at select House of Blues locations - the home of live music.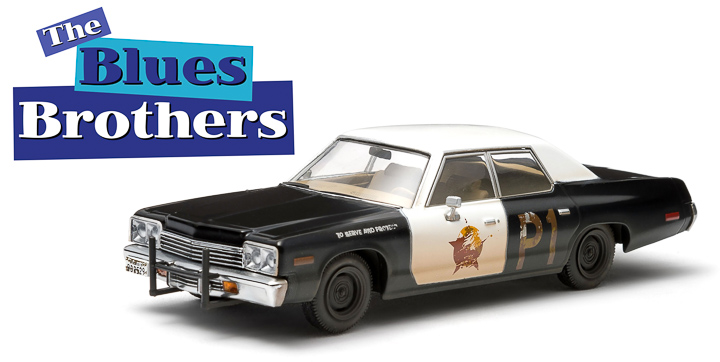 The power of music is what saves the orphanage where Elwood Blues and his brother Jake Blues lived when they were young boys. This vehicle was their mode of transportation throughout their adventure in the film. In reality, the blues is a powerful form of music that has shaped the way music is created even today. It is still widely celebrated at venues like The House of Blues with the intention of keeping the blues and other forms of traditional music alive and well.
House of Blues began its legacy in 1992 when the original location in Cambridge, Massachusetts opened its doors. It was the home to live music, original folk art, and delta inspired cuisine. Now there are eleven locations each with a capacity of over 1,000 individuals. At these hot spots for live music and dining, you can purchase merchandise for both House of Blues, and products of The Blues Brothers. Greenlight is very excited to be running our 1974 "Bluesmobile" for House of Blues. It will allow fans of the movie to take an authentic piece of it home with them. You can find it now at these select locations later this week:
GreenLight Collectibles
GreenLight Collectibles is a premier manufacturer and marketer of authentic die-cast vehicle replicas and other automotive-related products. GreenLight replicas are produced under various themes in 1:18, 1:24, 1:43 and 1:64 scales and are officially licensed by the world's premier automotive and entertainment companies, including General Motors, Ford Motor Company, Chrysler Group LLC, Volkswagon AG, Honda Motor Co., Nissan North America, Airstream, Fleetwood, NYC & Co., Warner Bros., Carroll Shelby Licensing, Paramount Studios, Universal Studios, Eleanor Licensing LLC, The US Army, The Steve McQueen Foundation, Sony Pictures, and the Verizon IndyCar Series.
Public Relations Contact: Josh Hollandsworth | GreenLight Collectibles | Media Design & Communications | 5855 W 74th St. | Indianapolis, IN 46278 USA | jsh@greenlighttoys.com