New Licensing Agreement with Barrett-Jackson Auction Company!
Indianapolis, Indiana (November, 2015)
GreenLight Collectibles is excited to announce the official signing of a new licensing agreement with the Barrett-Jackson Auction Company. This is an exceptional opportunity to be partnering with the leader in collector car auctions and automotive lifestyle events. This license will yield the opportunity for GreenLight to produce a variety of timeless collectible die casts in all scales, and with an even wider variety of inventory, the possibilities are practically endless. The first release will be the 1:64 scale 1950 General Motors Futurliner which sold at Barrett-Jackson for US $4,000,000.00 in January, 2015. This Futurliner scale model will be available January of 2016, just in time for the 2016 Barrett-Jackson Scottsdale auction taking place January 23-31, 2016.



Matt Elliott, Vice President of Licensing and Product Development at GreenLight said, "We are very excited to renew our relationship with Barrett-Jackson. Their auctions are known as a leader in their market and we look forward to working with them for years to come."

This is not the first time that GreenLight has been fortunate enough to pair with Barrett-Jackson. The successful "Auction Block" series, last released in 2011, ran for an astounding 15 series. Now, with this new Barrett-Jackson licensing agreement, GreenLight will be releasing its first of a new series: 1:64 Barrett-Jackson Series 1 - 'Scottsdale Edition'. This set is scheduled to hit shelves towards the end of the year and features a smorgasbord of auction classics:
1:64 1969 Chevrolet® YenkoTM COPO Chevelle® - Fathom Green
1:64 1967 Shelby® GT-500® Fastback - Midnight Metallic Blue
1:64 1969 Ford Mustang BOSS 302 - Acapulco Blue Poly
1:64 1970 Dodge HEMI® Charger R/T - Bright Red
1:64 1970 Oldsmobile® 442TM ConvertibleTM - Jade Green
1:64 1971 Plymouth HEMI® 'Cuda - Curious Yellow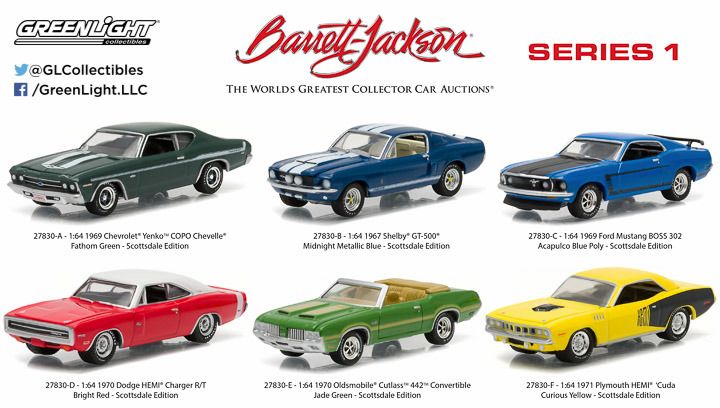 The die-cast replicas are sure to be a hit as GreenLight only offers the highest of quality, the most authentic-to-scale and accurate period parts. Look forward to many exciting new models to come. To check for updates, make sure to check out GreenLight's website or the GreenLight Facebook and Twitter pages.

About Barrett-Jackson: Established in 1971 and headquartered in Scottsdale, Arizona, Barrett-Jackson, The World's Greatest Collector Car Auctions®, is the leader in collector car auctions and automotive lifestyle events. The company produces auctions in Scottsdale, Arizona; Palm Beach, Florida; Mohegan Sun in Connecticut and Las Vegas, Nevada where thousands of the most sought-after, unique and valuable automobiles cross the block in front of a global audience.
This release will be available through official GreenLight official hobby shops and wholesale dealers, as well as Toys R Us, Meijer and other select mass retailers, including Amazon.com. For more information about GreenLight's up-coming releases or the other quality collectibles from GreenLight, visit www.greenlightcollectibles.com.

GreenLight Collectibles is a premier manufacturer and marketer of authentic die-cast vehicle replicas and other automotive-related products. GreenLight replicas are produced under various themes in 1:18, 1:24, 1:43 and 1:64 scales and are officially licensed by the world's premier automotive and entertainment companies, including General Motors, Ford, Fiat Chrysler, Nissan, Honda, Navistar, NYC & Co., Warner Bros., Carroll Shelby Licensing, Fleetwood Allied Recreation Group, ABC TV, Mopar, Universal Studios, Sony Pictures, AMC, IndyCar Series, Airstream and many others.
Public Relations Contact: Alina Cappadora | GreenLight Collectibles | 5855 W 74th St. | Indianapolis, IN 46278 USA | anc@greenlighttoys.com