Retail in Focus: Pep Boys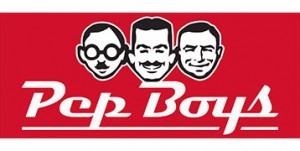 Indianapolis, IN (April 2016) Whether we like it or not we all have car trouble eventually. A flat tire, a chipped windshield or a dead battery cause a lot of pain for wallets everywhere, but Pep Boys is a national franchise dedicated to making these occurrences feel slightly less painful. Pep Boys was founded back in the early 1920s and GreenLight is proud to be partners with such an established brand since 2012. If you feel like shopping for some diecast models while the mechanics work to fix your tail light, that's possible with some of the product lines created by GreenLight Collectibles.
The auto repair stores sell a wide range of products to make any customer and collector happy. Among the lines sold at Pep Boys are the 1:64 scale Hollywood, Hot Pursuit and Muscle collections. The fun doesn't end there. 1:64 scale Motor World and GL Exclusives can also be found at Pep Boy stores across the country.
Want to know more about GreenLight's partnerships and retail locations? Follow us on Facebook, Twitter and Instagram to learn about the product lines at stores across the U.S. Don't forget to check out the 'News' section on the GreenLight website!
About Pep Boys
The first Pep Boys store was founded in 1921 by four Navy friends who served together in World War I. It began as a way to enter into the auto supply market as the ownership of cars began to increase more and more. The four friends invested a total of $800 to get the franchise started in Philadelphia, Pennsylvania and the business was able to see through to the end of the Great Depression with very little cost to the business. After the Depression, the now three owners moved the business out west and opened the very first store in Los Angeles in 1933. Following World War II, the demand was increased even more as families began to grow and more cars were being purchased. Pep Boys took advantage of this increase in demand and decided to go public, causing an expansion to the suburbs after the influx of cash from the IPO. The number of Pep Boys locations nearly tripled from 1947 to 1969 and the franchise has been expanding ever since. More recently in 2016 Pep Boys was acquired by Icahn Enterprises Holdings L.P.
On the web: www.PepBoys.com
Buy GreenLight online through Pep Boys - CLICK HERE
Find a location near you: storelocator.pepboys.com/pepboys
GreenLight Collectibles is a premier manufacturer and marketer of authentic die-cast vehicle replicas, scale figures and other automotive-related products. GreenLight replicas are produced under various themes in 1:18, 1:24, 1:43 and 1:64 scales and are officially licensed by the world's premier automotive and entertainment companies, including General Motors, Ford Motor Company, Chrysler Group LLC, Volkswagen AG, Honda Motor Co., Nissan North America, Airstream, Fleetwood, Winnebago Industries, Gulf, Shell, NYC & Co., Warner Bros., Carroll Shelby Licensing, Paramount Studios, AMC, Universal Studios, Eleanor Licensing LLC, The US Army, Elvis Presley Enterprises, The Steve McQueen Foundation, Sony Pictures, and the Verizon IndyCar Series.