Bespoke Collection By GreenLight To Be Launched In 2020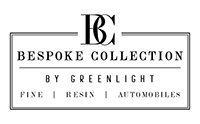 INDIANAPOLIS (July 22, 2019) – Introducing Bespoke Collection by GreenLight, a brand-new product line launching in early-2020, bringing fine resin automobiles to the collector market with the GreenLight Hollywood touch, starting with initial product launches in 1:12th scale.
The first two models from Bespoke Collection by GreenLight will be:
12101 1:12 Bespoke Collection - 1:12 The A-Team (1983-87 TV Series) - 1983 GMC Vandura
12102 1:12 Bespoke Collection - 1:12 Gone in Sixty Seconds (2000) - 1967 Ford Mustang "Eleanor"
"We carefully studied our licensing portfolio and considered all licensing partners when formulating the best approach for the launch of Bespoke Collection by GreenLight", said Russell Hughes, President of GreenLight Collectibles. "With the amazing fan support we've seen from The A-Team and Gone in Sixty Seconds enthusiasts over the years, we couldn't have launched the Bespoke Collection by GreenLight program with any better support and market appeal."
MSRP for these models will be US$399.99 per unit. Master cases, from a business-to-business perspective, will be 4 pieces per master. These delicately developed models will be delivered with 1:12 scale limited edition polystone cast resin bodies. These 15+ inch masterpieces features perfectly detailed bodywork, serialized metal plaques on the chassis and will come packaged in polyfoam, with closed box presentation that will contain eloquently developed artwork to preserve the models for years to come.
First models have an expected arrival date of January 2020.
To learn more about GreenLight Collectibles, visit their website, Facebook, Instagram, and Twitter.
About GreenLight Collectibles
GreenLight Collectibles is a premier manufacturer and marketer of authentic die-cast vehicle replicas, scale figures and other automotive-related products. GreenLight replicas are produced under various themes in 1:18, 1:24, 1:43 and 1:64 scales and are officially licensed by the world's premier automotive and entertainment companies, including: General Motors, Ford Motor Company, Fiat Chrysler Automobiles, Volkswagen AG, Nissan North America, Airstream, Fleetwood, Goodyear, Bridgestone Brands LLC, Michelin Tires, BF Goodrich Tires, Sumitomo Rubber Industries, Ltd., Winnebago Industries, NYC & Co., California Highway Patrol, ABC Television Network, Warner Brothers, Carroll Shelby, Paramount Studios, Sony Pictures, Sony Television, Lionsgate, AMC, NBC/Universal, CBS, Stephen J. Cannell Productions, Twentieth Century Fox, Terminator, Eleanor Licensing LLC, United States Postal Service, United Parcel Service, Elvis Presley Enterprises, The Steve McQueen Foundation, Gone in 60 Seconds, Eleanor Licensing LLC, Gulf Oil, Gulf Oil International, Ltd., Pennzoil, Bardahl, Turtle Wax, Marvel Mystery Oil, Chevron/Texaco, STP Oil, PURE Oil & Firebird Racing Gasoline, Gold Eagle Co., Graveyard Carz, BIGFOOT 4x4, Inc., Mecum Auctions, Barrett-Jackson, Brock Racing Enterprises, The Topps Company and the NTT IndyCar Series.